15:53 - 28/05/2013
4 all you stockholm shoppers. Acne's having their seasonal sample sale. Selling sample's of ss13 (which are in stores right now) and pieces from previous seasons for great prices. Be there!
19:56 - 24/05/2013
I'm sooo impressed and excited about BLK DNM and Johan Lindeberg work together with Gisele Bundchen. I know that i talk a lot about BLK DNM and no. I'm not obsessed, it aint my favorit brand but… Impressed how far the brand have come and the things BLK DNM have achieved so fast. It's make me proud over Sweden and it's really important for sweden as a "fashion city". Take a look at the wonderful sneakpeak-pics from @BLKDNM's instagram.
23:01 - 18/05/2013
I really love this new Saint Laurent picture of the store and the stunning Freja Beha Erichsen shooted by Hedi Slimane himself. Straight and sleek classic pieces. I actually love almost everything Hedi does. Searching for old Dior Homme pieces every day. It's just sad that the pieces from the early collections is so damn expensive.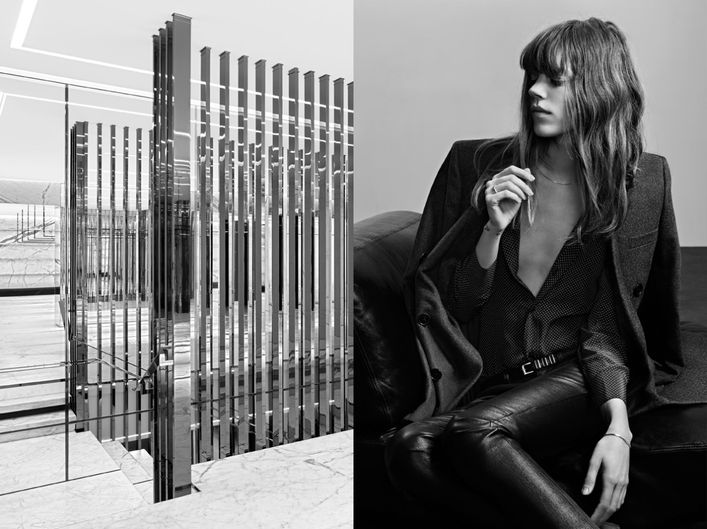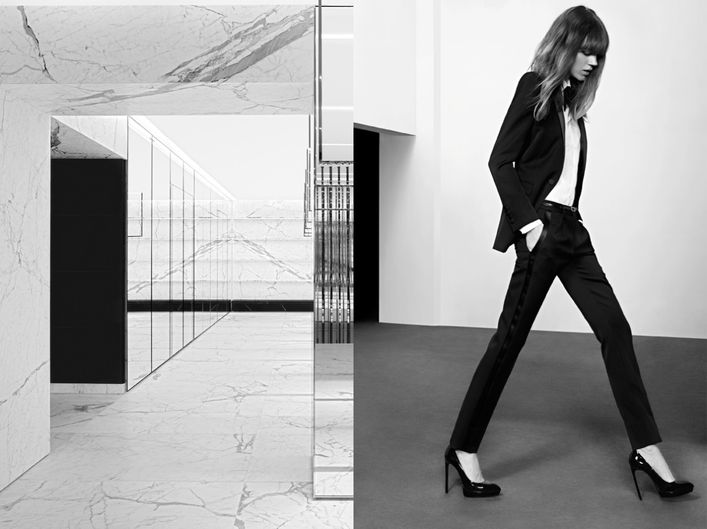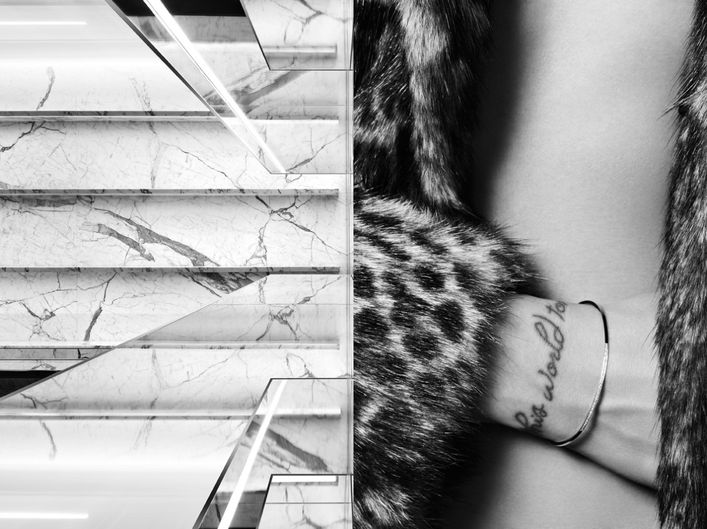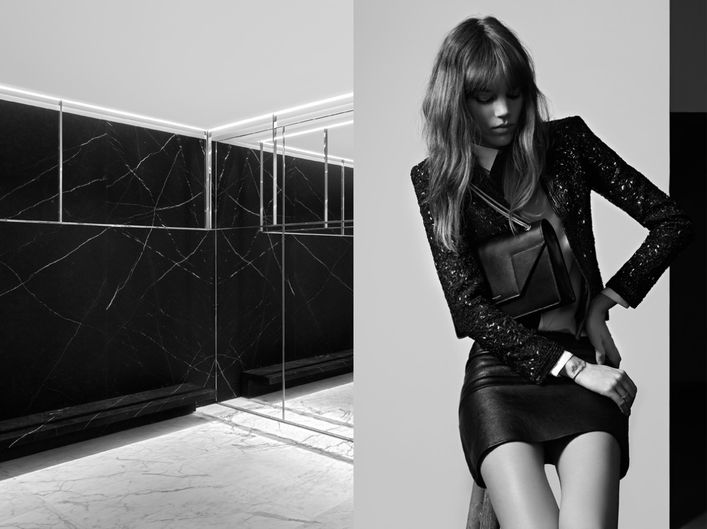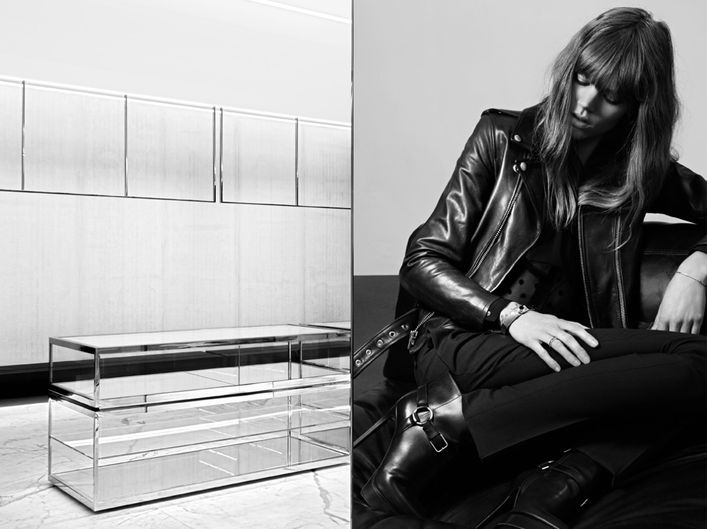 20:11 - 14/05/2013
BBC BLACK, Pharrell Williams and his brand BBC have cooked up yet another collab label with American designer Mark McNairy and it's something that really feels "thats its been done for me" since i love the mix between black fashion (I dont wanna use the word avantgarde) and streetwear. The collab labled BBC BLACK are spot on. Streetwear, all black everything. Enjoy!
Source: Hypebeast.com
21:32 - 12/05/2013
I have show you my latest purchase here before, the expensive and rare Guidi boots. But only with stolen pictures from a Webshop. When i looked in my iPhone i found two pics with them on my feets. I cant use the boots any more since i need to take them to the shoemaker to put on some soles. The leather sole isn't exactly optimized for the swedish weather. I can't wait until I get to use them again since they are the most comfortable shoes I've ever had on my feets. They are also the illest.
The Guidi's together with some DIY cropped jeans.
After a gym pass, I actually tried to sole them by myself but the result didn't become as I wanted. Contrast soles feels so 2011.
Xx, P
21:18 - 12/05/2013
As i told you earlier this week, Me and King Magazine's Fashion Director Claes spended the last week in Åre, Sweden to shoot 3 editorials to some of King Magazine's upcoming fall issues. It was a great trip together with a great team. Great clothes and a great model. So the results became of course really good. I hope you will see them later. For now I've got some backstage pictures from the trip to show you. Enjoy!
First Day we spent on the top of Åre Mountain at a location called "Skutan".
Shooting the editorial with downjackets at Skutan.
Matthew in some downjacket and cool shades from E&E Glasses.
The second day of shooting we were in the Woods for a editorial with a Hunting theme. Here's the Photographer Kalle Gustafsson.
Our model Matthew is out and try to hit some poses.
3 day we were shooting luxury coats. Everyone got 2 do it. Modelz azwell. But i dont know if someone have done it in a leather coat, so G before.
A cold Matthew is running to the Car after the last picture the last day.
I wasnt cold, but tierd and disgustingly colorful.
//P
21:47 - 09/05/2013
This Thursday was a special Thursday. It was a birthday Thursday, my birthday! Hurray! I had the day of. The sun was shining. But that didn't stop me from dress all black. When the spring have arrived to Stockholm and the sun shines you need something that brakes off?
Coat, BLK DNM. Tee, H&M. Jeans, BLK DNM. Shoes, Comme des Garcons. Sunglasses, E&E. Bag, Rick Owens DRKSHDW.
20:47 - 05/05/2013
In one of my latest outfit posts i mentioned a purchase of a pair of dream shoes. It was about two weeks ago but since i've been badly unproductive here on the blog the latest week i havnt show them for you. I blame the unproductiveness on a week with hard prep for 3 editorials, followed by a week of fall editorial-shootings for King Magazine in Åre. But now I'm home again. Back to the shoes. One of the most expensive purchases I've done but it was totally worth it. What did i buy? A pair of Killer boots from Guidi. Mod: 986 reversed backzip. Made by hand in a basement in Italy, since 1896. Kangaroo Leather… Yee, i show you some pics and let them speak for themseeeelfxzzzzxxx.
Ps. I understand if you think they look like something found on a old dumpy bone yard and that you are chocked over the fact that i payed whole lot of money for them booootz. But… Its more than just a shoe.
21:25 - 23/04/2013
As many of you know, I come from a small town in northern Sweden called Vilhelmina. In Vilhelmina nobody works with fashion, in Vilhelmina do you work as a forester, truck driver, in tourism or in the municipal sector. If you don't wanna work with some of those things do you unfortunately have nothing to do there. That's the main reason I moved from Vilhelmina to Stockholm. Of course I miss my family and the nature. However, the benefits of living in Stockholm is greater. Therefore, I am incredibly impressed by my friend Carolina Rönnberg who live in Vilhelmina and actually manage to work as a Fashion Designer although the conditions of success are small. In an industry that is difficult to break into, I am glad to see her develop. In late 2012, she won the fashion contest "Show Up Fashion Award" in Borås, where the prize was the opportunity to create and produce a collection for Nelly.com which she working on right now and a few weeks ago she won the "Fresh Fish" contest in Gothenburg, where it was a paid internship at Gina Tricot, 20 000 SEK.
I'm biased on this issue, but can sometimes feel that she is too good for Sweden. But you have to start in some country. I just hope that someone will see Carolinas talent and help her reach out. She is one of few things that makes me proud of my hometown Vilhelmina. Please, enjoy her amazing work!